At Alpha Advisers we see ourselves at the heart of a successful Corporate Super partnership with you and your business.
Our promise is simply to make your life easier when it comes to Corporate Super because we get that it is our passion and top priority…and not necessarily yours.
Whether you are the owner of the business, an employee, part of the elected Policy Committee, or even the Super Fund administrator; our partnership will extend you great value added benefits including saving you time, money and headaches because of our knowledge, experience and proven approach.
Getting to the heart of a successful Corporate Super Strategy for your business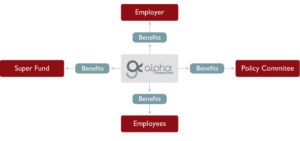 For a closer look at the roles and responsibilities of each party or to see how we as your trusted adviser could greatly benefit you, contact us today.